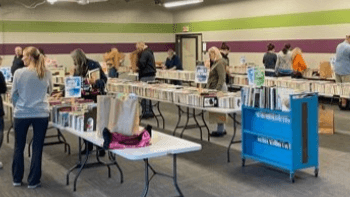 Semi-Annual Book Sales
In addition to our ongoing book sale near the front desk, our Friends Group holds two large book sale events every year in the Spring and Fall. Check our Events Calendar for specific dates.
The 2022 Spring Book Sale is scheduled for April 28 - 30, during regular library hours. We also offer a Teacher Preview Night on April 27 from 3:00 - 6:00 p.m. In addition to $10 bags of books, you'll find specially priced CDs, DVDs, audio books, puzzles, and games. A bake sale and raffle are also part of the fun!
If you'd like first dibs on the sale, we offer Early Bird entrance on Thursday from 9:00 - 10:00 a.m. Admission is just $10 per person but is waived as part of membership with the Friends Group. For those that chose the Family Membership, you're also entitled to half off your first bag of books.
To build our inventory, we always welcome gently used book donations. For more details, please visit the Book Donations page. Additionally, at this time we are looking for volunteers to help run the sale. If you're interested, please send an email to waclfriends@gmail.com.