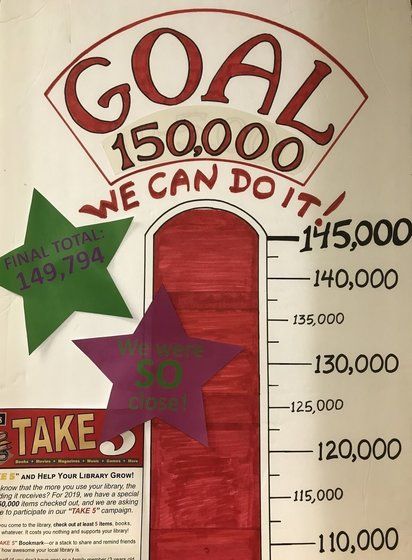 Thank you all so much for your help in our special "Take 5" Campaign to check out 150,000 items in 2019. Despite being closed (repeatedly) because of the flooding situation this year, the library circulated 149,794 items - just 206 short of our goal. That's only 1/1000th! Way to go!
We DID however accomplish our main goal - to raise awareness of the fact that every item you check out supports your library and gets us more funding. AND we beat our library's all-time circulation record by over 5,000 items!
Let's keep the momentum going. Keep on supporting your library by checking out those books, and we're sure 2020 will be another banner year. "Take 5" every time you stop by, or grab a basket and fill it up with even more goodies. Come to storytime, download some free eBooks, attend an event - every use you make of your library supports us, and we are always grateful.