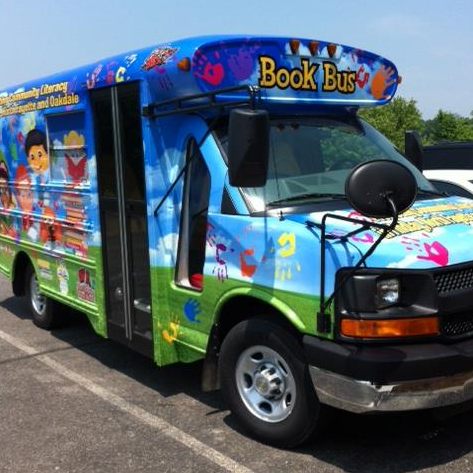 Come on Board the Book Bus!
Western Allegheny Community Library, in partnership with West Allegheny School District and Monark Student Transportation operates a Book Bus. This mobile library resource is a both a bookmobile and an extended outreach program to foster early literacy and Kindergarten readiness for the area's youngest children.
The Bus accommodates shelving for books as well as storage and child-friendly reading areas. Our collection includes picture books, early readers, board books, nonfiction titles as well as chapter books for older readers, young adult titles and even some bestsellers for adults.
The partnership has received generous financial support from North Fayette Township, Findlay Township, Oakdale Borough, West Allegheny Education Association, West Allegheny Foundation, Kehm Oil Company, W.A.F.E.L., Clinton Festival of Lights, Crossroads Preschool, Helping Hands Preschool, North Fayette Police Youth Fund, Lexington Manor Apartments, and Donaldson, McKee, & Wilson Elementary School PTAs.